Planning permission is being sought to convert Dunroamin B&B to 11 holiday flats.
At the time of writing, 39 public comments have been posted on the Highland Council website – this application has caused a considerable outcry. Please add your voice to these objections – numbers really make a lot of difference. If you wish, you can use some of the text in the AVCC response as part or all of your objection.
The only way you can tell Highland Council what you think is to put a comment on their website. You need a Highland Council login to do this, but it is quick and easy to get here.
You can then make your comment on the Highland Council website here.
AVCC STRONGLY OPPOSES THIS APPLICATION
Aviemore and Vicinity Community Council strongly opposes this application, and has posted a formal objection on the Highland Council website. The following is the text of AVCC's objection:
Context – this property (Dunroamin') is a long-standing family run Bed and breakfast is a quiet residential street. Planning permission was approved for similar changes to an adjoining property – Vermont (22/01256/FUL) in May 2022. NB – it was not made clear by the applicant at this stage that a second application for a neighbouring property would be forthcoming. It is clear from the current application that the applicant intends to run the two properties as a single business.
Grounds for objection
1. Process. As noted above there was no initial indication that the two properties were to be converted and managed as one. This was, to say the least, misleading. A new 21 room apartment block would have been subject to far more public scrutiny at the time. We are also disappointed by the attempt to sneak this application through the planning process over the Christmas period, particularly as the planning offices appear to have been closed over the period.
2. Impact. This application has caused a great deal of stress and concern for local residents. It is grossly inappropriate that this can be allowed to happen, particularly at this time of year when people have other priorities and the normal sources of advice are not available.
3. The proposal. What is being proposed is basically a low budget motel – the rooms are of variable quality (size, layout, headspace, furnishings), there is no on site supervision and the parking is inadequate. This will create a poor quality visitor experience which will reflect badly on the wider village.
4. We do not accept the assertion that there is a demonstrated need for more accommodation of this type. In fact the proposal would create some very cramped, poor quality accommodation in a completely inappropriate setting. This can only have a negative effect on the reputation of Aviemore, and of the Cairngorm National Park.
5. Capacity. The proposal to create 11 serviced apartments in Dunroamin' is presented as only a minor increase in the number of letting rooms. In fact, Dunroamin' served as a family home with only 4 letting bedrooms. The number of visitor bedspaces on the combined site therefore increases from 8 to 21 under this proposal. The Vermont development will already deliver a similar increase in capacity. The combined effect would be to introduce a large new business of 21 letting apartments (capacity 42 guests) in replacement for two small B & Bs.
6. Traffic and parking – this represents a significant increase of potential vehicle traffic. The application increases the number of parking spaces to 11 (there are currently 4 guest spaces at Dunroamin'). Combined with Vermont (10 spaces) this would give 21 additional visitor vehicles entering and leaving Craig na Gower Avenue. There is clear potential for additional disruption is guests arrive in separate vehicles, and there is no parking provision for staff or tradespeople coming to service the properties. The proposed new parking to the rear is immediately adjoining neighbouring gardens, adding further potential disturbance. We consider it highly unlikely that guests and those servicing the property will consistently park on the site itself.
7. This is a traditionally built house. The proposal includes a number of external decking areas for use by individual visitors. Visually, this is completely out of character with the surrounding properties. It also greatly reduces privacy for neighbours and increases the likelihood of noise disturbance at all hours of the day.
8. Several of the proposed apartments are directly accessed from the exterior of the building. This introduces several additional entrances and exits, again adding to disturbance and impacting on the appearance of the property.
9. The so called apartments are very small and are shoehorned into the building. The additional facilities provided appear to be minimal. By any normal assessment, these are rooms with a fridge and kettle rather than genuine self-catering accommodation. There is not room for even a table or chair. The visitor experience provided is likely to be low in quality.
10. The site plan shows 6 domestic wheelie bins wedged between some of the proposed decking. This is unlikely to be sufficient for 11 apartments with a 2 weeks collection cycle. We do not see space for any provision of larger bins without encroaching into the already cramped parking provision.
11. Business model – the application is clear that these properties are intended to be unstaffed, with remote electronic check in etc. This of course means that there is no on site presence to resolve guest issues or to intervene in any cases of disruptive or anti-social behaviour. This significantly increases the likelihood of disturbance to neighbours.
12. We have a wider concern is that this proposed development (if approved) could set a dangerous precedent for the village and seriously impact the quality of life for residents as well as damaging existing businesses.
end of text
———————————
Dunroamin is situated on Craig-na-Gower Avenue, next to the Vermont B&B that is owned by the same developer, and which has already been approved for conversion to holiday flats.
This is the site plan, which also shows the neighbouring Vermont development.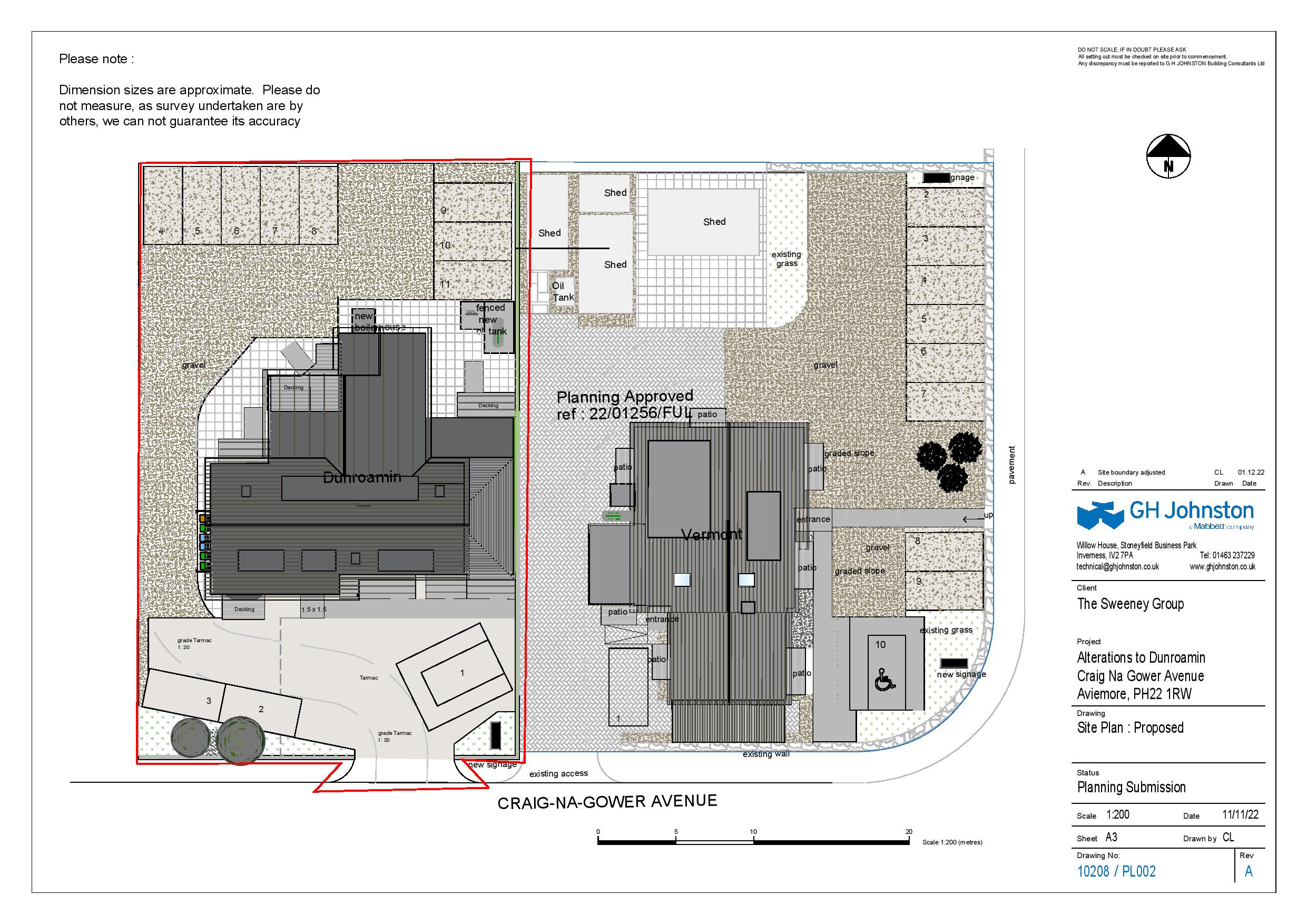 This is the location plan, which shows where the developments are situated on Craig-na-Gower Avenue.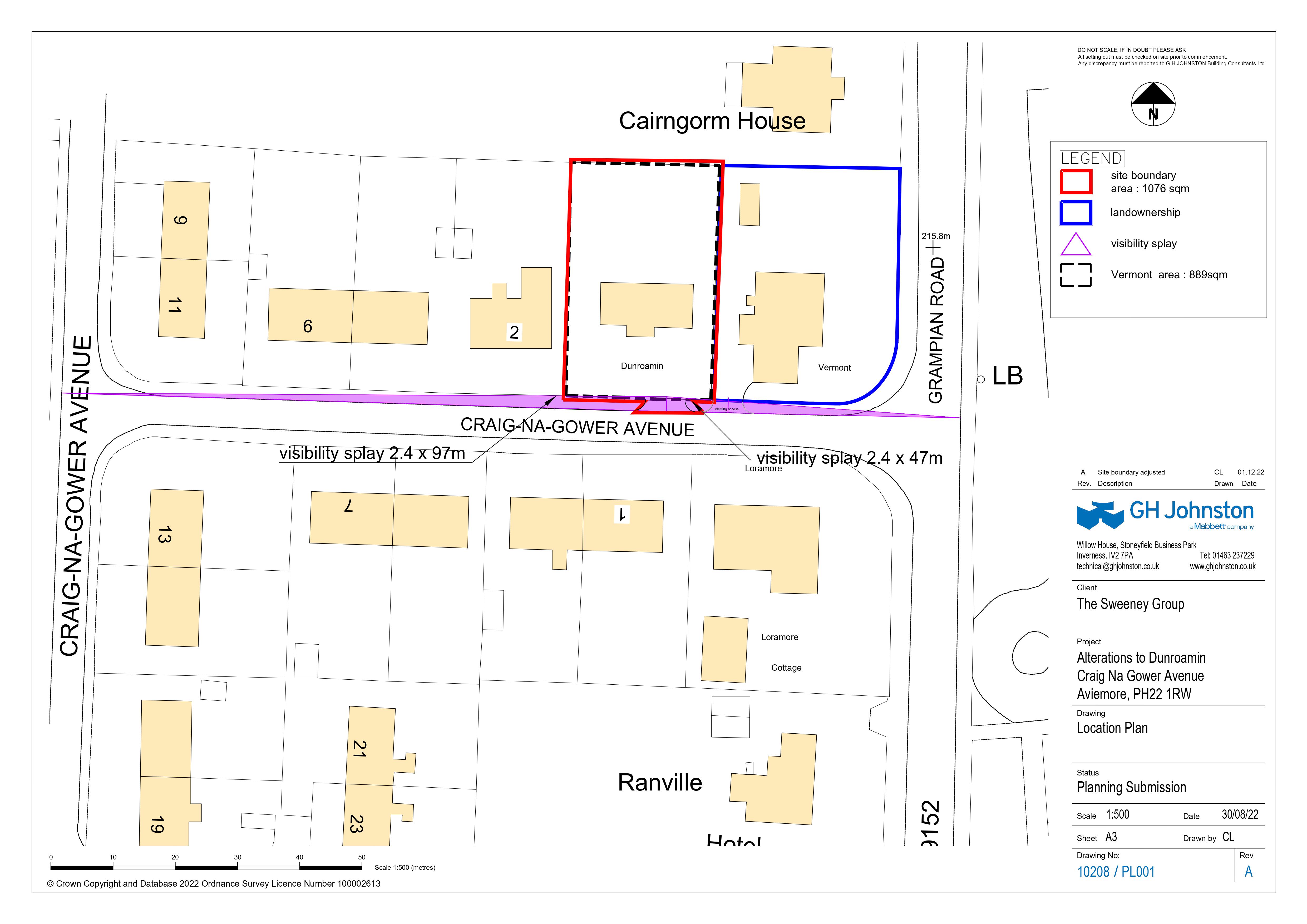 For more details, see the document provided by the developer in support of their planning application here.
The planning application on the Highland Council website can be found here.