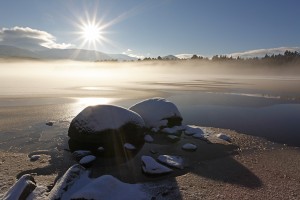 The Aviemore and Vicinity Community Council extends from the Monadhliath Mountains in the west through the ancient Caledonian pine forest of Rothiemurchus to Glenmore and Cairngorm in the east. The bulk of the population is in Aviemore which has grown from a small railway junction to an internationally recognised ski resort which now also offers an increasingly large number and variety of indoor and outdoor sports and activities. With this diverse range of winter and summer activities, together with a year round programme of festivals and events, the area is open for 52 weeks of the year. There is a strong record of conservation in terms of the care for the countryside and indeed conservation is important in many of the businesses. There are two National Nature Reserves and much of the rest of the area has environmental designations.
For a community of around 3600 people, Aviemore and Vicinity punches well above its weight, attracting well over 1,000,000 visitors per year. Aviemore itself has come a long way since its early start as a railway junction in the 19th century and the redevelopment of the resort since the start of the Millennium, has seen both residential and visitor numbers rising strongly again with growth in both tourism and conservation activity. Aviemore and Vicinity plays a vital part in the Scottish tourist industry and is the economic driver for Cairngorms National Park. The area is easily accessible by air, rail and road, and, due to the wide choice of accommodation provision, plays host to an increasing number of international and high status conferences and events, throughout the year.
The Community Council meets at 7.30pm on the second Thursday of every month in the Aviemore Community Centre, Aviemore. All meetings are open and the public are welcome to attend.
Role of the Community Council
The general purpose of a Community Council is be to ascertain, co-ordinate and express to the local authorities for its area, and to public authorities, the views of the community which it represents, in relation to matters for which those authorities are responsible, and to take such action in the interests of that community as appears to it to be expedient and practicable. The Community Council has a right to be consulted on planning applications and liquor licence application.
Community Council Members
Peter Long – Chair
Elspeth Byrne – Secretary
Kathleen Cameron – Treasurer
Alastair Dargie – Vice chair
Beth Hay
Joe Kirby
Jennifer Pacitti
Sally Devlin